With spring on the way, we've been busy brewing up some new and exciting product features. Read on to find out how we are improving the producer experience and helping your team capture data to measure your event's success on Welcome.


A one-stop shop for all things analytics

We're thrilled to bring you V1 of Welcome's built-in analytics dashboard. It's a self-serve tool that lets you fetch data quickly and automatically—which means you no longer need to nudge our team for every metric (that's a win-win!). After every event, you can view and download all of your event data including attendance, breakouts, lounges, chat, Q&A, and more.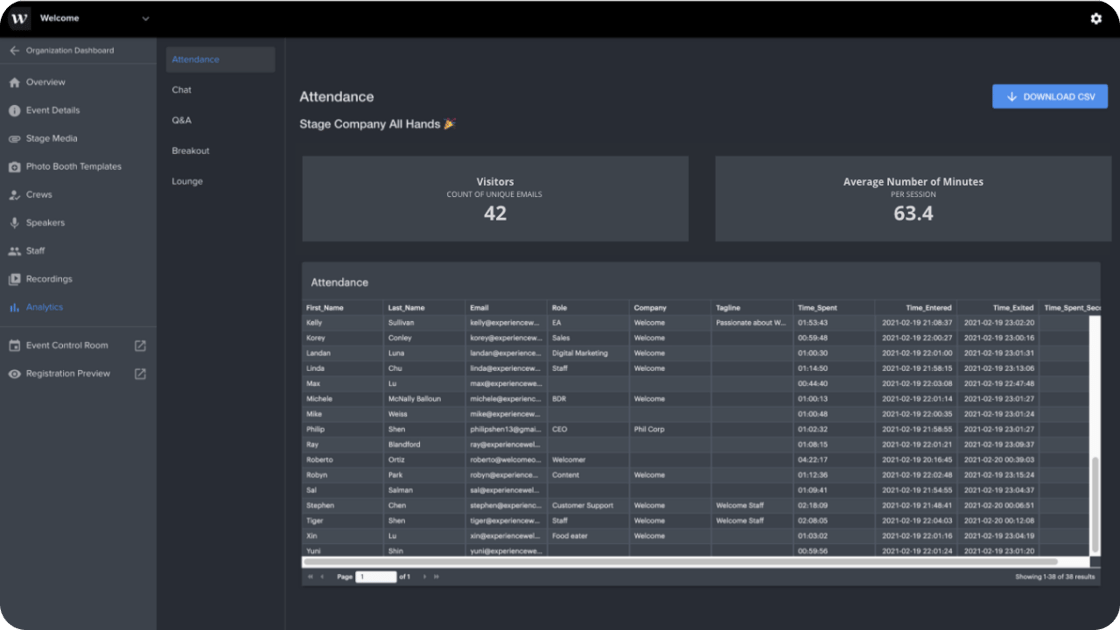 Email Allow List by domain

Email Allow List is no longer limited to a CSV upload; you can now set up an allow list by domain. Simply navigate to your event details, choose Email Allow List option and add a specific domain (i.e. "@experiencewelcome.com"). This will give anyone with that email domain the ability to register for your event.
All of your one-click registration links in CSV
Accessing all of your attendees' one-click registration links in one place is now simpler than ever. You can download a .csv file of all your attendees' custom links from the event dashboard, making it easier for you to include them in your personalized event invitations. They will also be available for two weeks instead of one!